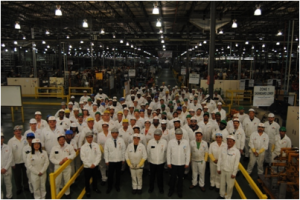 Jefferson Southern Corporation is committed to maintaining and providing a competitive health and wellness program.  We provide a wide range of benefits to our associates, which increases the total compensation considerably. The following is a summary of benefits offered:
Retirement—Jefferson Southern Corporation provides a 401(k) plan which associates are eligible to participate in after 6 months of service. JSC will match 50% of pay up to 6%.
Healthcare—Jefferson Southern Corporation offers PPO medical, dental and vision coverage with pharmacy cards.
Insurance— Associates receive basic and accidental death and dismemberment (AD&D) life insurance, short term disability and long term disability at no cost. There is an opportunity to purchase supplemental life insurance for                                                                                                                     yourself or dependents.
Holidays/Paid Time Off (PTO)—Jefferson Southern Corporation observes approximately eight (8) paid holidays each year in addition to two weeks of shutdown normally occurring during or around the Independence Day and Christmas holidays. No PTO use is usually required during this time. Additionally, PTO time ranges from two weeks for one- to four-year associates, three weeks for five-year associates and four weeks for 10+ year associates.
Additional Voluntary Benefits—Voluntary benefits, such as accident insurance, are available to employees through payroll deductions.
Jefferson Southern Corporation also offers company uniforms with free laundry services and an annual safety shoe allowance to all associates.
We earn our customer's trust through our enthusiasm and continuous improvement driven by integrity, teamwork and innovation. We recognize our success is derived from the contributions of an exceptional group of team members who make a positive difference in our business everyday. If you feel that your skills and values set you apart from the crowd and you are seeking a challenging and rewarding career we invite you to view our current career opportunities by location and to submit an on-line application. Come join the team!
If you are interested in an entry-level position, please contact: North Georgia Staffing at 610 Shorter Ave,  Rome, Georgia  30161 or call 706-622-6960 ext 300.

JSC is proudly a GA Drug Free Workplace and we conduct pre-employment hair follicle testing